Atma 18
日本へ初上陸するBogner "
Atma 18
"が完成してきました☆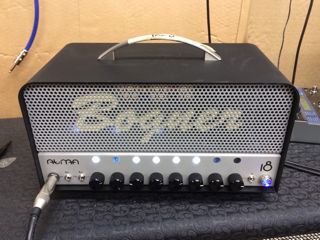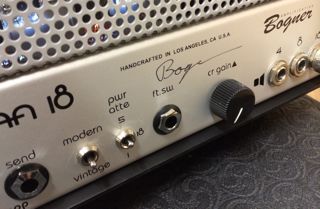 記念すべき日本への1台目という事で、
ラインホルドにサインを入れてもらいました!
Atma includes:
- EL84 power tubes for 18 watts
- EC81 rectifier tube
- aluminum head shell and speaker cabinet (baltic birch-ply baffle board)
- three channels: clean, crunch and lead channels. clean has a balanced tone control while crunch and lead channels share gain, treble, middle and bass eq controls. channels are accessed via the foot-switch or front panel three-way selector switch
- crunch channel has gain pot on back panel to control gain structure from crunch to lead gain levels
- three-way switch for 60′s, 70′s, 80′s gain, voicing and compression. 80′s mode is great for attaining hi-gain tube saturation at bedroom levels with inspiring feel and tone
- three way bright switch
- power attenuation from 18w, 5w or 1w
- effects loop with send and return jacks"